MORE CLARITY. LESS COMPLICATION.
The 100% collection of goggles offer several different features throughout the range, but incorporate a simplistic interchangeable lens replacement and accessory system.
ARMEGA®
Lenses
ARMEGA is the pinnacle of vision technology.
Our signature 100% Ultra HD lenses are the result of decades of passion, design, craftsmanship and research.  As the lens of choice for the worlds best racers, Ultra HD  integrates with a shatterproof and impact resistant polycarbonate material molded specifically for zero optical distortion. The result is a lens that's engineered to maximize protection while maintaining the clearest, most accurate vision on the track.
Only available on the 100% ARMEGA goggle.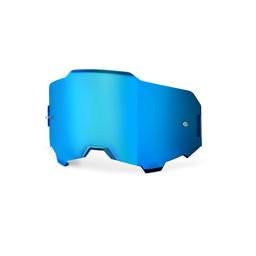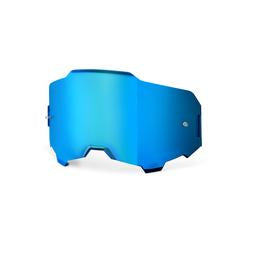 Generation 2 was launched in the Fall of 2020 with the Racecraft 2, Accuri 2, and Strata 2. Building on many of the same benchmarking features as their predecessors, these models feature a larger lens surface, therefore creating a different fitment than Generation 1. This is most easily recognized by the smaller nose cutout in the lens. Generation 2 still offers the same "one lens fits all" compatibility enabling you to interchange accessories across the entire Generation 2 lineup.
Generation 1 lenses, tear-off's and accessories are designed to fit the original range of 100% Racecraft, Accuri, and Strata goggles. Launched in 2012, these goggles changed the game by offering the simplistic approach of "one lens fits all", meaning that the same accessories fit all three goggle models even though they each have their own distinct features.